Two Notes C.A.B.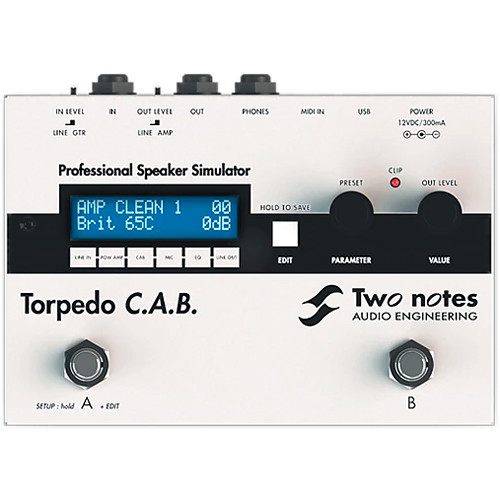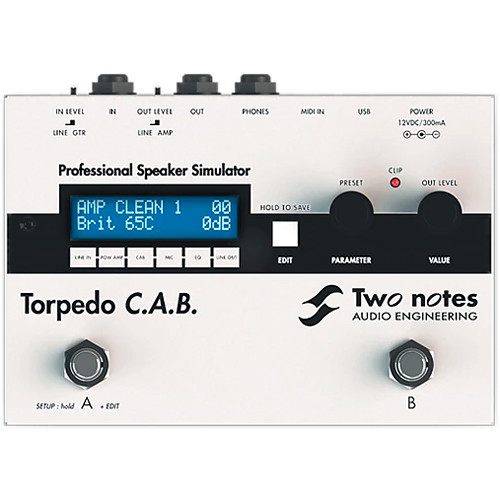 The Torpedo C.A.B. («Cabinets in A Box»)…
… is a high-end cabinet simulator in a stompbox format. It includes all the great features of the Torpedo Live, without the loadbox but with an input stage specifically tailored to accept pedal-level signals.
The concept
You love the sound of your amplifier pushed right to the magic sweet spot where the best tones are. Until now, the only available option was blasting your sound through a 4×12″ to properly excite a microphone. Enter Torpedo, the simplest and most realistic way to get your sound to your audience. Use the amp you love!
Everything that makes a real amp rule over all the other alternatives is retained. You can even record silently late at night. Gone is the backache from the loadout, complaints from neighbours, venue staff or even bandmates and the frustration of not being able to sound at one's best trying to reduce the volume.
Exclusive Torpedo technology
Highly realistic speaker simulation is achieved by use of convolution. Two notes started from that technology and brought it much further, to accurately reproduce the characteristics of the whole miking chain (speaker, microphone, preamplifier, studio room acoustic).
Many parameters influence the sound of your guitar or bass rig when it comes to recording. Taking good care of the cabinet selection and miking will dramatically improve the sound of your takes. The Torpedo simulation reproduces the tiniest variations of a cabinet behaviour (such as its frequency response). Move the microphone in the virtual studio room thanks to the Torpedo IR synthesis: all the settings you need to achieve great recordings are here.

The stompbox-style Torpedo
We know you love those little effects stompboxes and we definitely want you to use them with our Torpedo C.A.B. Place it at the end of your effect chain and all need to carry your amp will be gone. Plug it into the PA and you will be ready to go with a great sound.
Most notably: the Torpedo C.A.B. is the very first stompbox-style Impulse-Response Loader!

2 assignable footswitches
The Torpedo C.A.B. features 2 user-assignable footswitches. Assignable functions include Preset selection, Bypass, Mute, EQ On/Off and more…


Power Amp simulation
Connect your preamplifier directly to the Torpedo C.A.B. and take advantage of our exclusive tube power amp simulation. Select a type of amplifier and its characteristics, a tube model, and make your preamp sing as it deserves!

APPLICATIONS
Control your Torpedo & access the Two notes Boutique
With its clear and intuitive interface, Torpedo Remote will give you access to all parameters on your Torpedo, including loading and saving presets, loading new IRs, and updating the unit's firmware. You can pick any speaker cabinets from the Two notes Store, preview them on your own tracks in real time, and choose to buy the ones you prefer.

Arcade or Simulation mode
We borrowed the concept of Arcade VS Simulation from the world of video games.
The Arcade mode is usually the easy way to, for example, drive a race car. You can hit obstacles,other cars, you can still win the race. We recommend that for your first experience with The Torpedo C.A.B. you start with the Arcade preset mode to get more familiar with the concept of virtual miking.
The simulation mode is not for beginners and requires more experience and knowledge about how the car actually works, depending on many tiny but still important parameters (weather, type of tires, track design…). In that preset mode you will gain access to the full list of parameter, to fine tune your sound and make it perfect to your ears.

Connections
The Torpedo C.A.B. takes place on a pedalboard, after a preamp, among your usual stompboxes. The best results are achieved by placing it before the time-based and modulation effects (chorus, delay, reverb…), which then become brigther and clearer. This position also allows to take advantage of the possible stereo of these effects. This is similar to the way things are done in the studio, where modulations are often applied to guitar and bass tracks after recording.
SPECIFICATIONS
Connectivity
1- Input level selector
2- GTR/Line input
3- Output level selector
4- AMP/Line output
5- Phones output
6- MIDI IN
7- USB
8- Mains power adapter connector
9- Display screen
10- EDIT/SAVE button
11- PRESET/PARAMETER encoder
12- OUT LEVEL/VALUE encoder
13- Function footswitch A
14- Function footswitch B

The Torpedo C.A.B. comes with a selection of 32 Two notes cabinets and much more
2Notes CSG : Two notes Custom 1×12" ElectroVoice® EVM12L

Angl VintC : Engl® 4×12" Celestion® V30

Blonde 63 : Fender® Bassman '63 Blonde Tolex Piggy Back 2×12"

Brit 65C : Marshall® 1965A 4×10" Celestion® G10L-35 closed back

Brit VintC : Marshall® Slash Signature 4×12" Celestion® V30 closed back

Calif StdC : Mesa/Boogie® Rectifier® Standard 4×12" Celestion® V30 closed back

Eddie : Peavey® 5150 2×12" Sheffield 1200

Free Rock2 : VHT® Deliverance 2×12" Eminence® P50E

Green Tri : Hughes&Kettner® Triamp 4×12" Celestion® Greenback

Jazz 120 : Vintage Roland® JC120 2×12"

JubilGreen : Marshall® 2550 2×12" Celestion® Greenback

Kerozen : Diezel® 4×12" Celestion® G12K-100

Silver77 : Vintage Fender® Twin Reverb® 2×12" orange JBL®

SilverJen : Vintage Fender® Twin Reverb® 2×12" Jensen® C12K

The One : Brunetti® Neo1512 1×15" + 1×12"

Vibro Utah : Vintage 1961 Fender® Vibrolux® 1×12" original Utah speaker

Vibro V30 : Vintage 1961 Fender® Vibrolux® 1×12" Celestion® V30

Voice 30 : Original Vox® AC30 JMI 2×12" Celestion® « Silver Bell »

Voice 65 : 1965 Vox® 2×12"

VoiceModrn : Vox® V212H, 2×12" Celestion® Alnico Blue

Watt FanC : Hiwatt® 2×12" Fane closed back

XTCab : Bogner® 4×12" Celestion® V30
2Notes CSB : Two notes Custom 1×15"

Alu XL : Hartke® XL 4×10"

AZ Ben : SWR® Big Ben 1×18"

AZ Work : SWR® WorkingMan 4×10"

Calif Low : Mesa/Boogie® 2×10"

Fridge : Ampeg® 8×10"

Heaven Bot : David Eden® 1×15"

Heaven Top : David Eden® 4×10"

Marco : Markbass® 2×10"

Voice V125 : Vox® V125 2×12"
4 TUBE TYPES:
2 CIRCUIT TYPES:
class A / single ended

class AB / push pull
2 DIFFERENT MODES:
SETTINGS:
Settings:
Choice of speaker cabinet and microphone

Microphone position (distance, axis, front/back)
Post-FX :
5 band EQ

Reverb (8 rooms)
Note: All product names mentioned on this website are trademarks of their respective owners, which are in no way associated or affiliated with Two notes Audio Engineering.
Input / Output
GTR/LINE Input: 1/4″ Jack balanced (TRS, Tip/Ring/Sleeve) — Max level: 4,7 dBu (GTR) / 10,3 dBu (LINE) — Impedance : 100 KOhms (GTR) / 10 KOhms (LINE)
AMP/LINE Output: 1/4″ Jack balanced (TRS) – Max level: 10 dBu (AMP) / 16 dBu (LINE) – Impedance : 470 Ohms
Phones: 1/4″ Jack stereo (TRS)
MIDI input
USB connector

Digital audio
24 bits / 96 kHz converters
Bandwidth (-1dB): 12Hz – 19 kHz
Signal/Noise ratio: > 95 dB
Internal processing at 32 bits
Latency: 1.7 ms (Line Input to Line Output)

Power
Mains power adapter: DC Jack 2.1mm, negative center
Input voltage: 12V DC
Power consumption: approx. 3.6W
Current consumption: 300mA

Dimensions & weight
Width x depth x height: 178 x 127,8 x 58,3 (mm)
Weight: 750 g